Pumpkin Spice Coffee Cake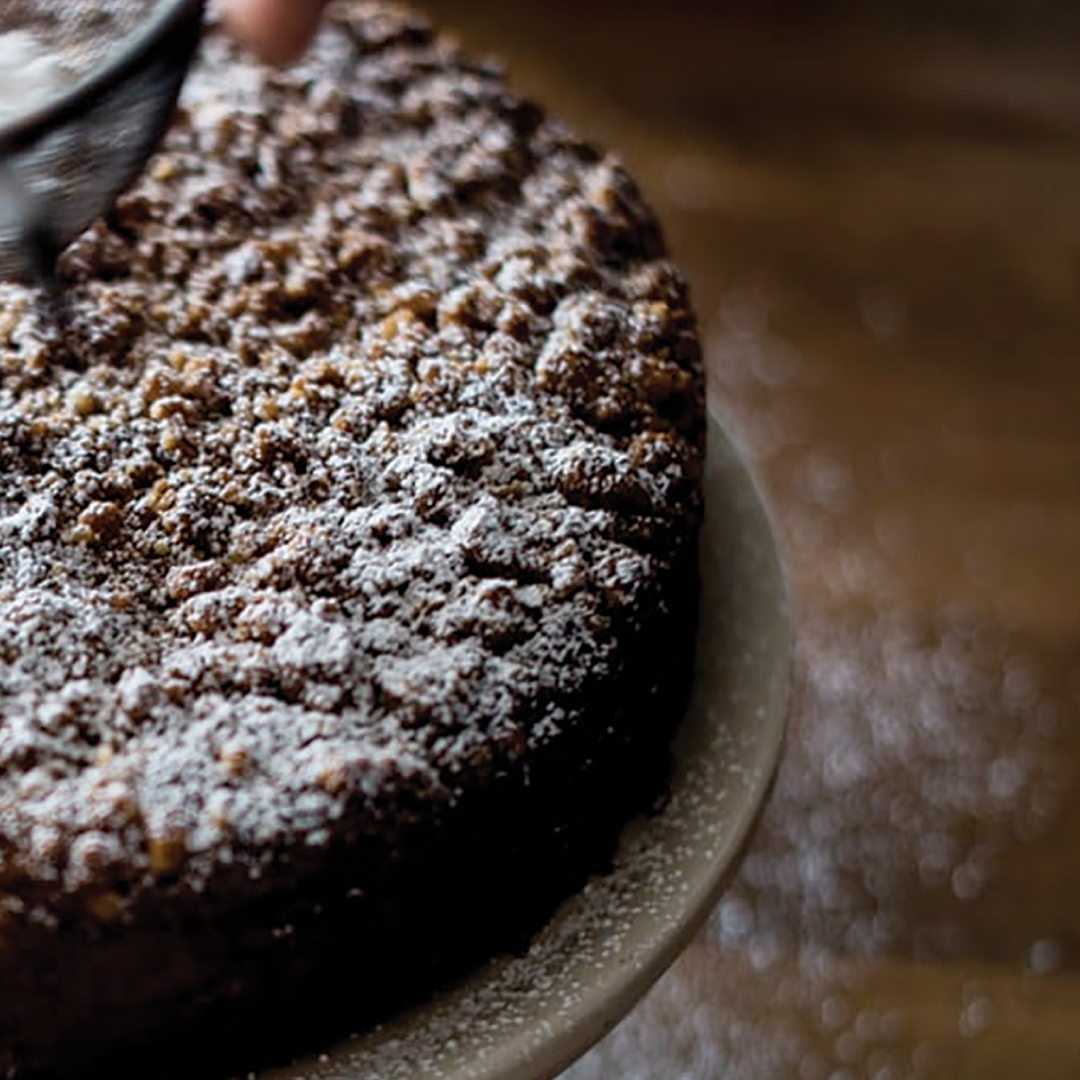 Streusel
½ cup brown sugar
¼ cup all-purpose flour
½ cup finely chopped pecans
1 tsp. ground cinnamon
Cake
3 tablespoons butter, melted
2 cups all-purpose flour
1 tsp. baking powder
½ tsp. baking soda
½ tsp. salt
1½ tsp. pumpkin pie spice
½ cup brown sugar
½ cup granulated sugar
1 cup pumpkin puree
½ cup vegetable oil
½ cup sour cream
2 large eggs, beaten
Glaze
½ cup icing sugar, sifted
2 tbsp. maple syrup

Preheat the oven to 350°F. Spray the bottom of an 8-inch square pan with cooking spray.
Streusel
In a small bowl, combine all of the streusel ingredients with a fork until crumbly. Set aside.
Cake
In a large bowl, stir together flour, baking powder, baking soda, salt, cinnamon, ginger, nutmeg, brown sugar, and granulated sugar. In another bowl, stir together the pumpkin puree, oil, sour cream, and eggs. Make a well in the centre of the dry ingredients, then add in the wet ingredients. Gently stir until just combined.
Spoon half of the batter into pan. Sprinkle with half of the streusel. Spread the remaining batter over the streusel. Sprinkle with remaining streusel. Bake for 35 minutes, or until a toothpick inserted in the center comes out clean. Cool for 15 minutes.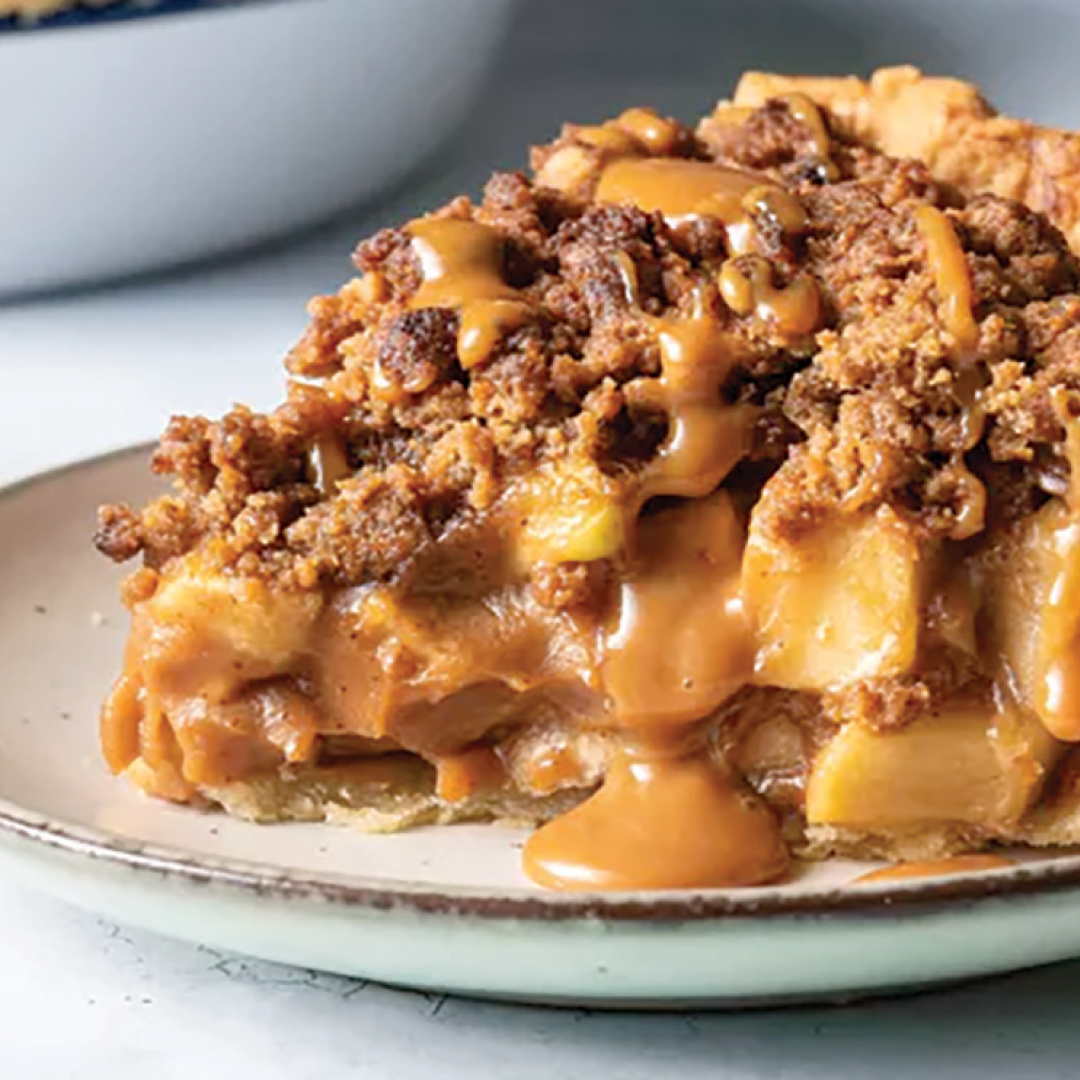 1 9-inch single pie crust
6-7 cups apples peeled, cored and sliced into ½" thick slices.
2 tsp. lemon juice
⅓ cup granulated sugar
2 tbsp. brown sugar
1 tsp. cinnamon
¾ tsp nutmeg
¼ tsp cloves
¼ tsp salt
¼ cup all-purpose flour
25-26 caramels
2 tbsp. whipping cream
1 cup all-purpose flour
½ cup butter softened
⅔ cup brown sugar
Egg wash and sugar for crust topping
In small pan, melt caramels and heavy cream/water over very low heat. Stir until smooth and set aside. Use half a cup of caramel in the apple filling and reserve the rest for topping pie slices when serving.
Preheat oven to 400°. In a large bowl, stir together apples, lemon juice, sugar, 2 tbsp. brown sugar, cinnamon, nutmeg, cloves, salt and ¼ cup flour. Let filling sit for 10 minutes then stir in ½ cup of the caramel topping.
Stir together remaining brown sugar, flour, and salt. Using a pastry cutter or forks cut butter into the flour mixture, until crumbs are formed.
Spoon the filling into the pie crust. Sprinkle crumb topping over apple filling. Brush egg wash over exposed parts of the crust. Sprinkle the crust and topping with a little coarse sugar.
Bake for 40-45 minutes or until the filling is bubbly, topping and crust are golden brown, and the apples are tender.
Serve with vanilla ice cream and remaining caramel sauce.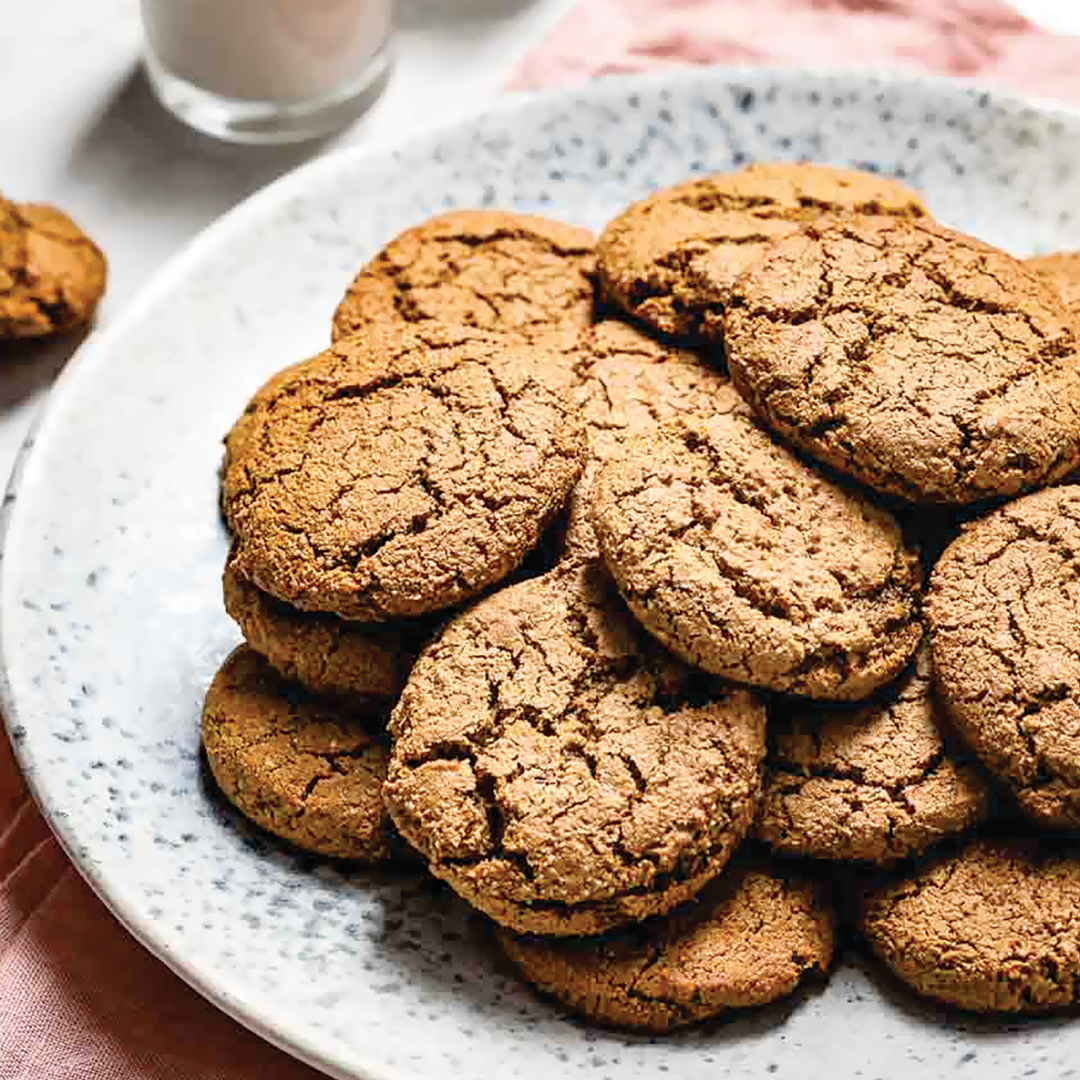 2⅔ cups all purpose flour
1 tsp. baking soda
½ tsp. salt
2 tsp. ground cinnamon
1½ tsp. ground ginger
¼ tsp. ground nutmeg
¼ tsp. ground cloves
1 cup butter, room temp
¾ cup brown sugar, packed
¾ cup granulated sugar
1 large egg
¼ cup unsulphured molasses
1 tsp vanilla extract
½ cup granulated sugar
1 tsp. ground cinnamon
Preheat the oven to 350°F. Line a large baking sheet with parchment paper. In a medium bowl, whisk together the flour, baking soda, salt, and spices; set aside.In a large mixing bowl, mix together the butter and sugars on medium-high speed for 2-3 minutes with a hand mixer (or paddle attachment on a stand mixer) or until light and fluffy.
Scrape down the bowl and add egg, molasses, and vanilla. Mix on same speed for another two to three minutes until light and creamy. Add half of the dry ingredients and mix on medium-low speed until barely combined. Scrape down the bowl and then pour in the rest of the dry ingredients. Mix until just combined.
In a small bowl, mix together remaining sugar and cinnamon.
Using a ¼ cup measure, scoop dough and roll in the cinnamon sugar mixture. Place cookies on the large baking sheet, evenly and well spaced apart.
Bake for 13-15 minutes, or until the edges are light golden brown and centre is pale and puffed.
Allow the cookies to rest on the baking sheet for about three minutes before transferring to a cooling rack.