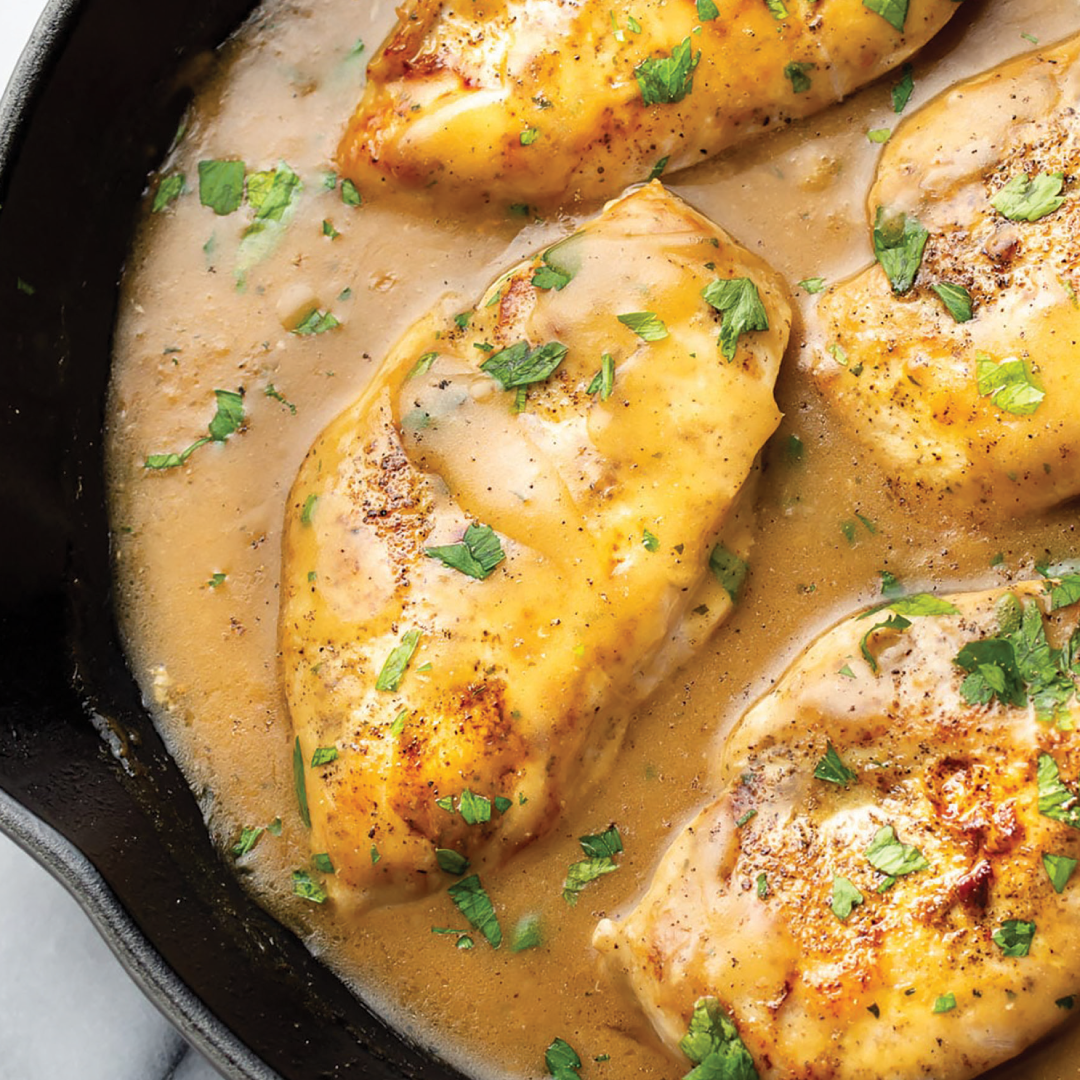 2 large boneless, skinless chicken breasts
2 tsp. Italian seasoning
Salt and pepper
3 tbsp. butter, melted
3 tbsp. olive oil
1 can (284 ml) cream of chicken soup
1½ cups milk
1 cup sour cream
½ tsp. onion powder
1 oz. package or 3 tbsp. Ranch seasoning mix
Slice chicken into two to three ½ inch slices. Brush with butter and sprinkle each side with Italian seasoning and salt/pepper.
Heat olive oil in a large frying pan over medium-high heat. Add chicken, leaving room around each. Sauté for four to five minutes per side, until a golden brown crust has developed. Remove and set aside. Repeat with any remaining chicken.
Add soup, milk, sour cream and ranch dressing to the pan, stirring until combined over medium heat. Let it bubble gently and reduce for 5 minutes. Add the chicken and spoon the sauce on top. Partly cover the skillet and let the chicken heat through for about 10 minutes.
Serves well with baked potatoes and salad.
Honey Garlic Shrimp Stir Fry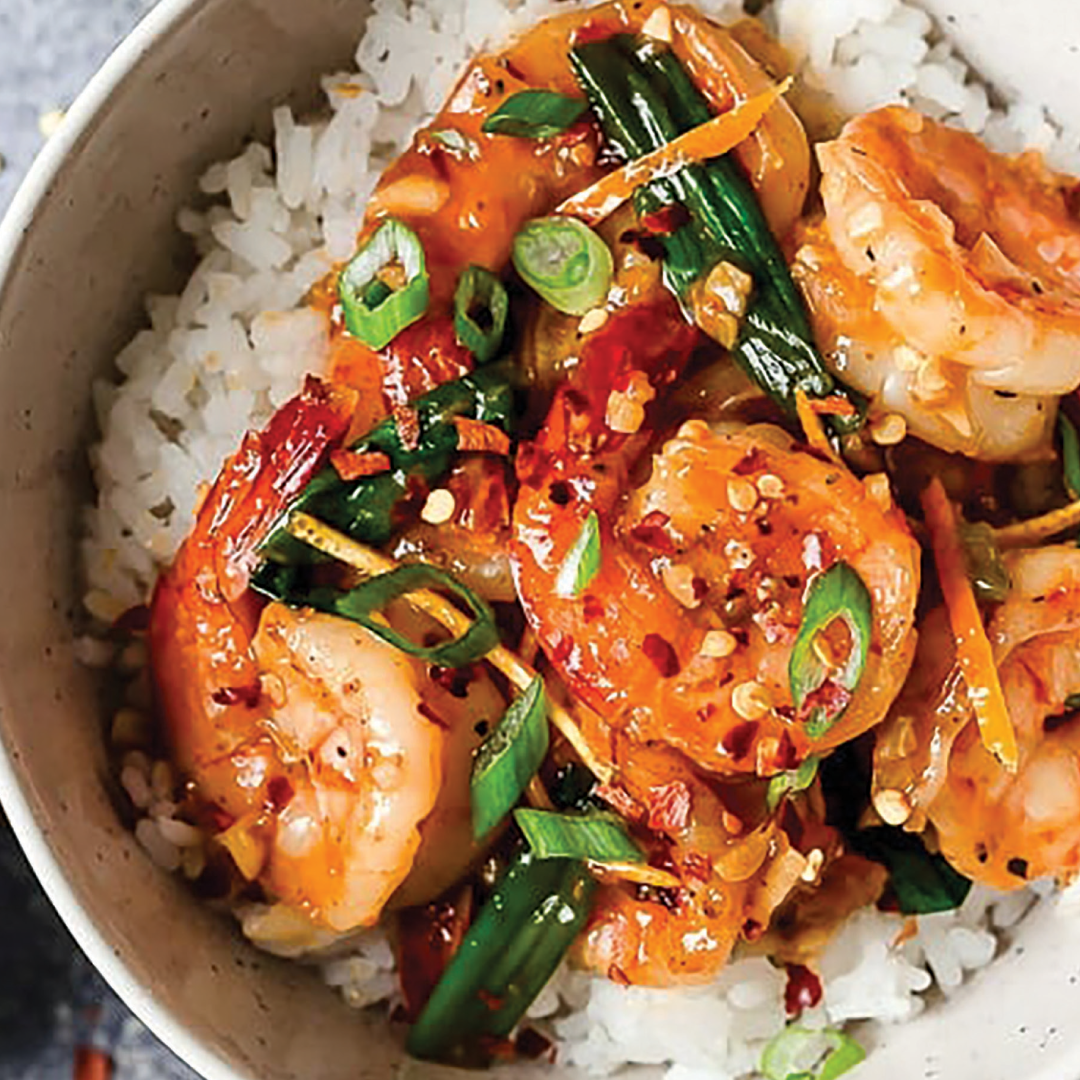 1 lb. raw shrimp, peeled and deveined
1 tbsp. olive oil
1 head broccoli, chopped
1 green bell pepper, sliced
1 red bell pepper, sliced
2 cups snow peas
4 garlic cloves, minced
2 green onions, chopped
¼ cup soy sauce
¼ cup honey
2 tbsp. cornstarch

In a small bowl, whisk soy sauce, honey and cornstarch together and set aside.
Heat one teaspoon of oil in a large, deep frying pan or wok over medium heat. Add the shrimp until pink, about two minutes per side. Remove shrimp and set aside.
In the same pan, add remaining oil, along with the broccoli, peppers and peas and sauté until peppers are blistered - about five to six minutes. Add garlic and shrimp and sauté for one more minute.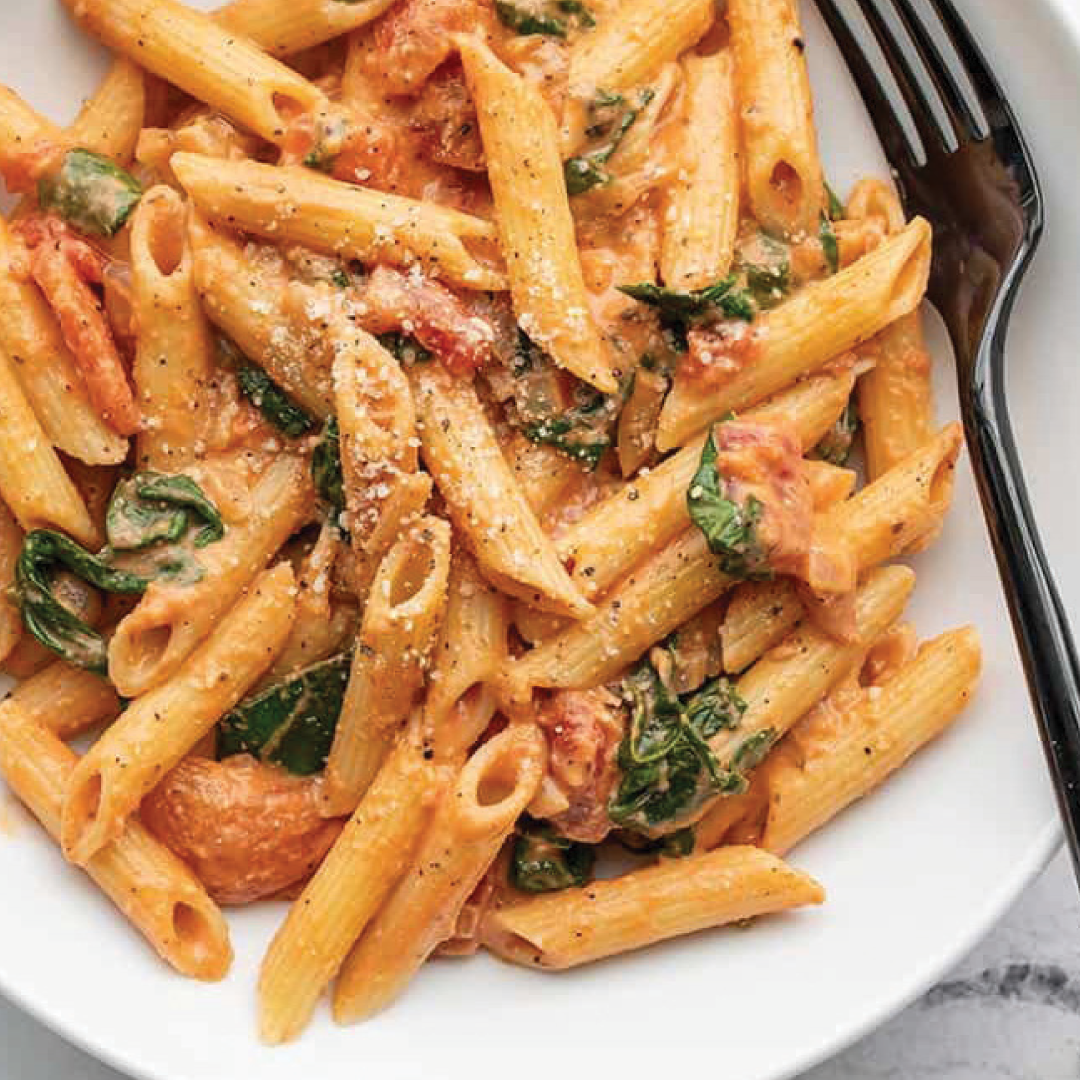 2 tbsp. extra-virgin olive oil
1 yellow onion, diced
1 cup cherry tomatoes, halved
8 oz. dry penne pasta
1 cup marinara sauce
2 cups water
1 tsp. Italian seasoning
½ tsp. garlic powder
½ tsp. sea salt
½ tsp. black pepper
2 to 3 handfuls fresh baby spinach
⅓ cup whipping cream
½ cup shredded mozzarella cheese
¼ cup chopped fresh basil leaves
Grated Parmesan cheese
Heat olive oil in a large skillet with a lid over medium heat. Add onion and tomatoes; cook for seven to eight minutes or until the onion is soft and tomatoes are broken down.
Add pasta, marinara sauce, water, Italian seasoning, garlic powder, salt, and pepper. Increase heat to medium-high and bring mixture to a simmer. Cover and cook, stirring occasionally, until the pasta is cooked, about 10 to 12 minutes.
Stir in cream, spinach, and cheese. Stir continuously until spinach wilts and cheese melts, about two minutes. Garnish with fresh basil and Parmesan.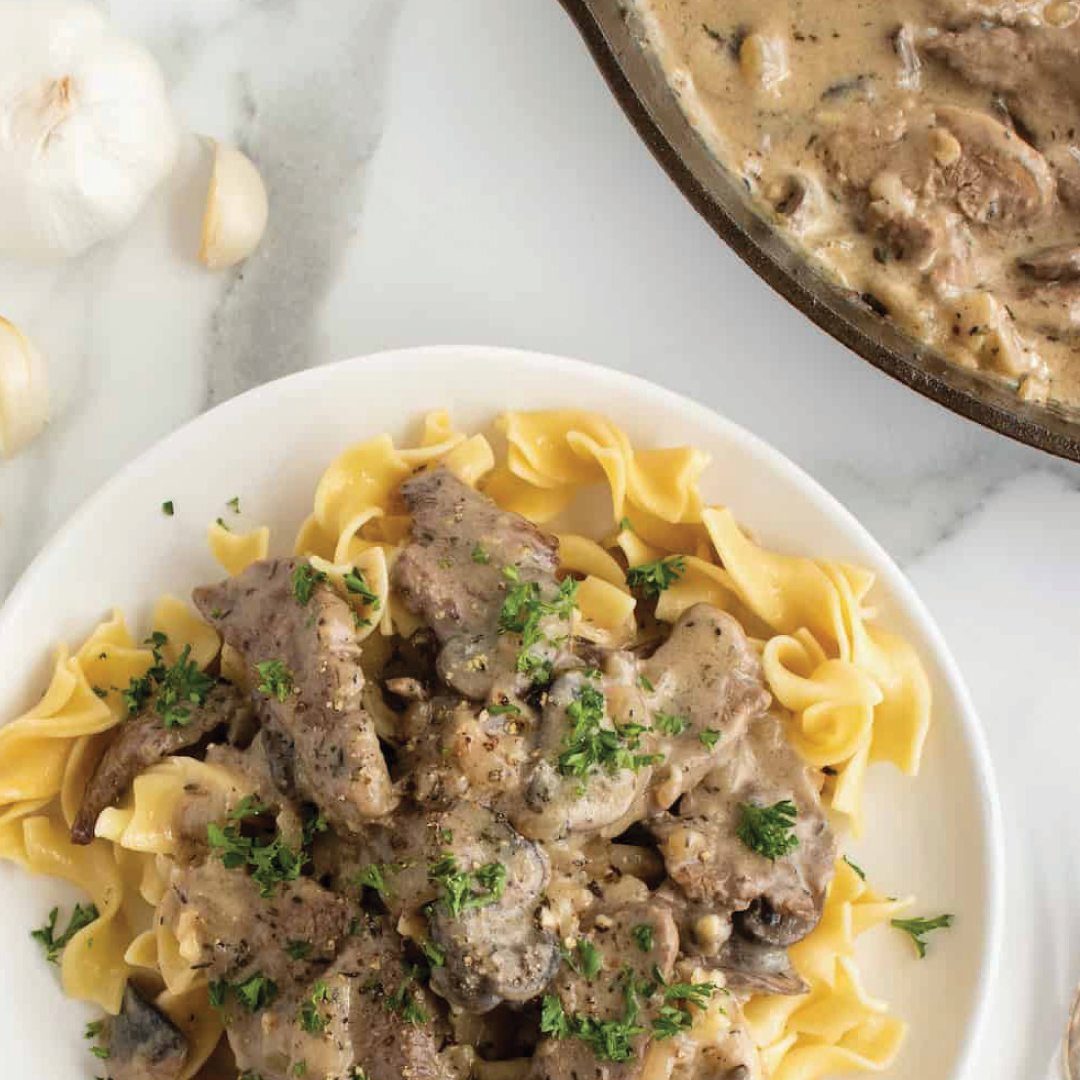 1 lb. top sirloin steak, thinly sliced into strips
2 tbsp. olive oil
2 tbsp. butter
½ yellow onion, finely chopped
½ lb. mushrooms, sliced
1 garlic clove, minced
1 tbsp. all-purpose flour
1 cup beef broth
¾ cup whipping cream
¼ cup sour cream
1 tbsp. Worcestershire sauce
1 tsp. Dijon mustard
½ tsp. salt
¼ tsp. black pepper
1 tbsp. green onion, to garnish
Add oil to a large deep pan or dutch oven over medium-high heat. When oil is very hot, add thinly sliced beef strips in a single layer, cooking one minute per side without stirring. Cook until just browned and no longer red. Remove beef to a plate and cover to keep warm. Repeat until all beef is cooked.
Add butter, chopped onion and mushrooms to pan and saute for six to eight minutes or until liquid has evaporated and onions and mushrooms are soft and lightly browned.
Add minced garlic and saute for one minute until fragrant. Add flour and saute for one minute, stirring constantly.
Pour in broth, scraping any bits from the bottom of the pan then add cream and simmer for another one to two minutes or until slightly thickened. Stir a small amount of sauce into the sour cream to prevent curdling, then add it to the pan while stirring constantly.
Add in Worcestershire sauce, mustard, salt and pepper, or season to taste and continue simmering until sauce is creamy. Add beef with any accumulated juices back to the pan and bring just to a simmer or until beef is heated through.