Do you want a new kitchen, you're dreading the idea of a major renovation? While there are many reasons to be reluctant to take the plunge—time, cost, or simply not knowing where to start—there is a solution to get a new kitchen without the major time or budget obligation.
Regina's Kitchens Renewed has been transforming kitchens since 2007 and cutting down on both the expense and the commitment needed to renew a space. Owner Roberta Kotowich and her team can take your existing kitchen and turn it into something amazing within days. "If you are happy with your existing kitchen layout, refacing is the perfect option to renovate your space into something that is both beautiful and functional," says Roberta.
The refacing process is straightforward. Once you pick your style from their more than 30 different door styles and 40 colour options during your in-home consultation the transformation will begin. Kitchens Renewed will remove and dispose of your old cabinet doors, drawer fronts and hardware. They can modify your existing cabinet boxes to modernize your kitchen and maximize your storage such as converting your lower cabinets doors to drawers or raising cabinets to accommodate new appliances. They can also add new cabinet boxes to expand your kitchen, install a new island, or add a coordinating pantry. "We can work with your imagination and pinboard to create a gorgeous and usable kitchen that will meet your needs," says Roberta.
Next, they will prepare the outside surfaces of your existing cabinet boxes and apply matching 3D laminate veneer just like at the cabinet manufacturing facility; however, this work is done on-site. Finally, Kitchens Renewed adds new, high quality, made-in-Canada doors, soft-close hinges, slides, and hardware. They can also coordinate the installation of new countertops and tile backsplashes to complete the look.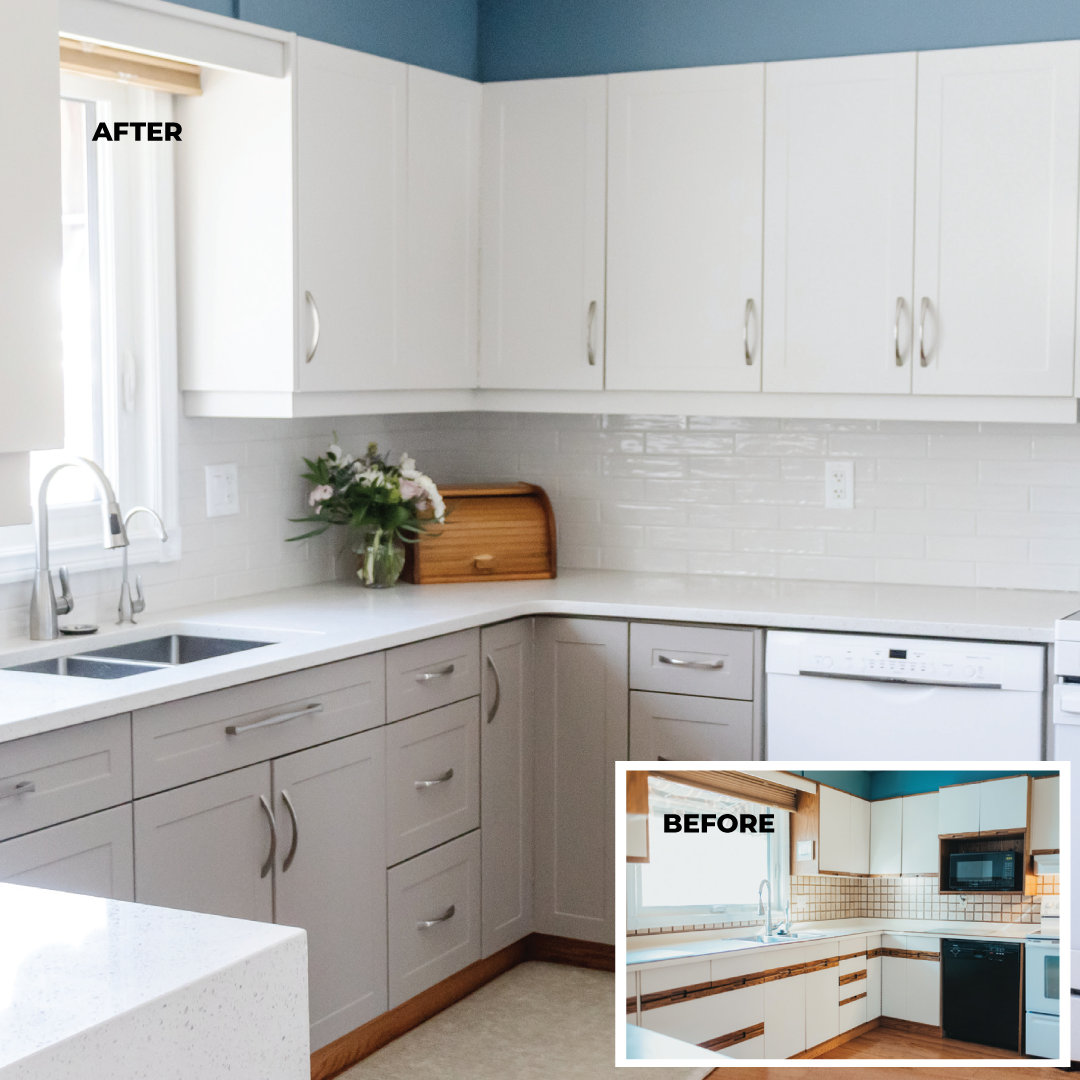 The best part is that refacing can provide you with a quality, stylish kitchen with less time, money, and waste than a traditional renovation. "Most installations can occur in a few days and will save you up to 40 per cent compared to a new kitchen," says Roberta. "The environmental advantage is that cabinet boxes that are still useful are not unnecessarily being sent to the landfill."
Ready to see what your kitchen could look like with Kitchens Renewed? Their team of expert designers and installers have been transforming kitchens in Regina and surrounding communities with high-quality products and professional installations for 15 years. "The team are specialists in cabinet refacing with over 100 years of combined experience in carpentry and cabinetmaking," says Roberta. "We're the city's only specialists in cabinet refacing, and your total satisfaction is our mission."
To learn more, visit kitchensrenewed.com or call and estimate "Let's work together to transform your existing kitchen to match your style—faster, on budget and with less waste," says Roberta. "Your dream kitchen awaits."