Quality sleep is vital to good physical and mental health. Getting a good night's sleep takes more than just a bed. Your bedroom needs to be a place where restful sleep is possible. A serene environment will create a peaceful and relaxing atmosphere that promotes restful sleep and rejuvenation. It should be a sanctuary where you can escape the stress of daily life and thoroughly unwind. You can turn your room into a tranquil space with thoughtful decor choices and mindful design. Here are 10 tips and ideas to transform your bedroom into a calming oasis that promotes relaxation and rest.
Start by selecting a soothing colour for your bedroom. Soft, muted tones like pastel blues, greens, and neutrals create a calming ambiance. Bright, vibrant colors can be energizing so choose hues that evoke tranquility.

Pick high-quality, comfortable bedding to make your bed the focal point of relaxation. Soft, breathable sheets (linen or high thread count cotton), plush pillows, and a cozy duvet or comforter are perfect for a restful night's sleep.

A cluttered or messy bedroom can be overwhelming and impact your sense of serenity. Tidy up and get organized by getting rid of unnecessary items and finding storage solutions for your essentials.

Add natural elements into your bedroom decor to connect with the outdoors and create a calming atmosphere. Houseplants, wooden furniture, or even a small indoor water feature can add a touch of serenity to your retreat.

Soft, warm lighting is better for rest and relaxation than harsh, bright lights. Use table lamps, floor lamps, or string lights to create a gentle and cozy ambiance. Lighting on dimmers can adjust the lighting intensity according to your mood.

Moving electronic devices, such as televisions, computers, and smartphones, out of the bedroom can improve your sleep quality. The blue light emitted by screens can disrupt your natural sleep-wake cycle, making it harder to fall asleep.

Make your bedroom yours with personal touches that evoke positive emotions and memories. Hang meaningful artwork, display cherished photographs, or incorporate items collected from your travels to make the space feel uniquely yours.

A quiet environment is crucial for relaxation and proper sleep. Noise-canceling curtains and soft furnishings like rugs and cushions can absorb sound and create a peaceful atmosphere.

Avoid bringing the office into your bedroom. Associating your sleep space with work can hinder relaxation and make it harder to switch off mentally. Keep your workspace out of the bedroom as much as possible.

Ensure your windows have the right coverings for natural light during the day and offer privacy and darkness at night. Blackout curtains can block out external light sources and keep distractions to a minimum.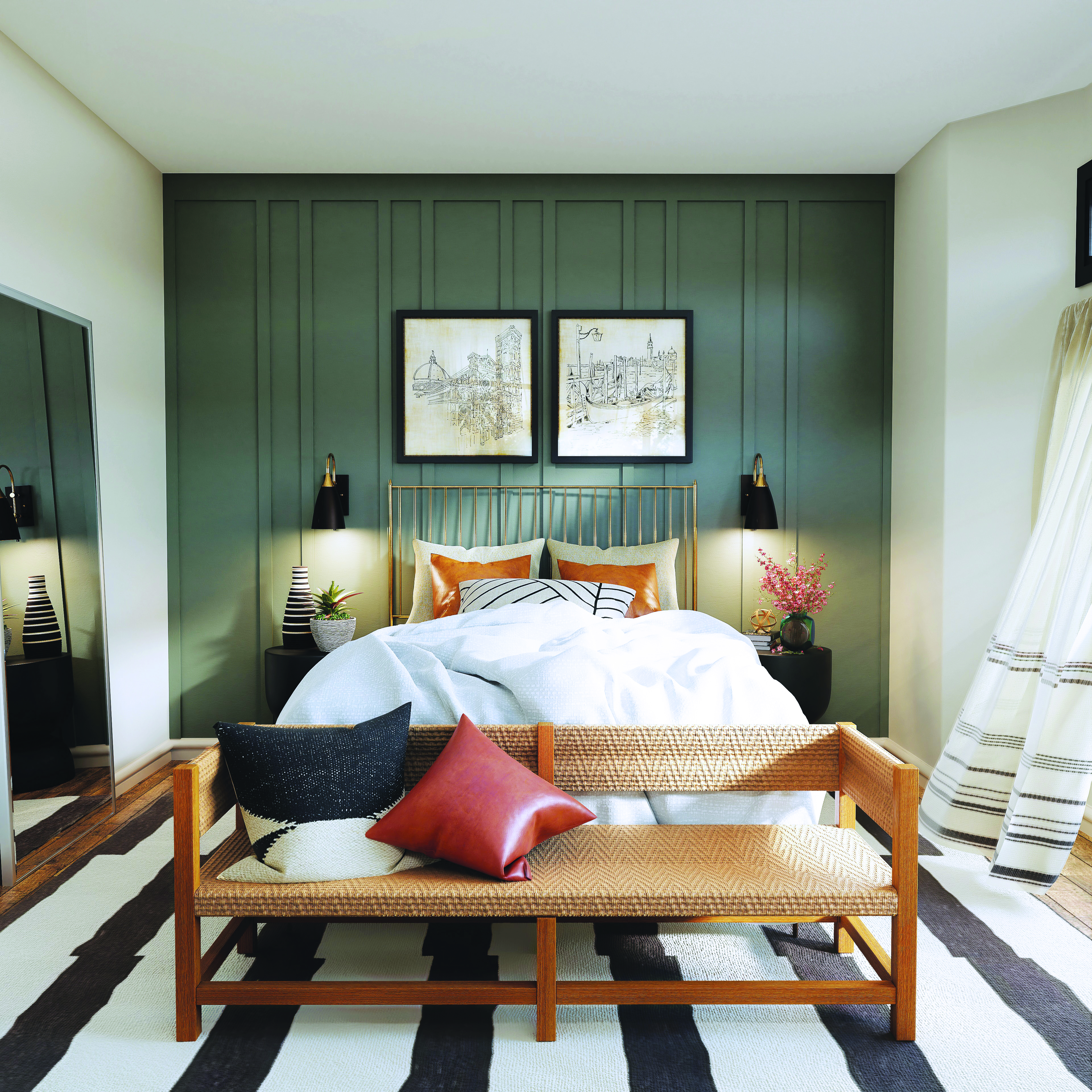 By creating a serene bedroom retreat with a focus on comfort and relaxation, you can transform your bedroom into a tranquil haven, promoting restful sleep and overall well-being. Remember that everyone's idea of serenity is unique, so personalize your space to match your preferences and create a peaceful environment that truly speaks to you.